The Rotation feat. Lil Baby & Grace Bukunmi: Perspective s of a Rapper and Stylist
For some, getting dressed is just one more thing to throw together in the morning, but when you're on the level of rapper Lil Baby, and stylist Grace Bukunmi, it's a vision.
So we traveled to Atlanta, where we had Lil Baby and Grace put together 'The Rotation'— the freshest looks with the season's latest apparel. Afterwards, we sat down with them to see how their perspectives matched up on styling, inspiration, and trends. Here's what they had to say:
Q: If you were to give yourself a job title, how would you describe yourself and your career?
 Grace: So, I really like architecture, and although I've never studied that I feel like everything that I'm doing across the board—from photography to styling to art direction to content direction—is creative architecture in a way. And I'm able to tell stories through the pieces I put together and the images I make.
Even though I'm not building anything, I'm creating and making blueprints through these different layers. But I guess when it comes down to it I'm just a creative person.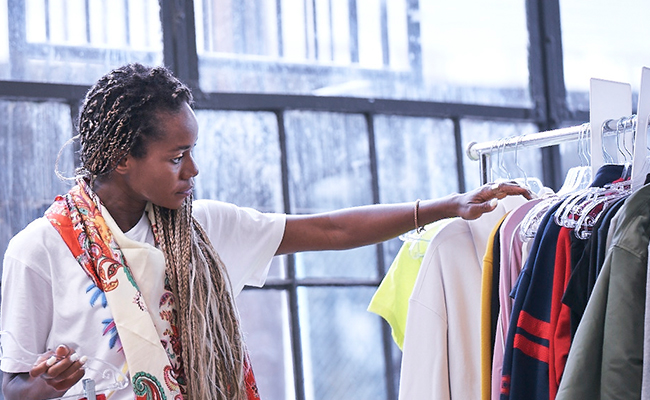 Q: What was your process when putting together the looks?
Lil Baby: The process for me when I'm styling is the same as I do at home. So I start with one or the other (shoes or shirt). If I got a pair of shoes I want to wear, ok, this is what I'm wearing today, and I'm gonna make that outfit out of that. If I got this specific shirt I want to wear, then I'm like, ok, I'm gonna grab this shirt today, then I'm gonna go to the pants, then I'm gonna go to the shoes, the belt, the hat…
Styling is actually the same process as rapping for me. When I rap, I go in the booth and I just rap. Then I go back and look over what I just did and grab certain parts to put them together.
Grace: I think about where each girl is going. Some looks are very sporty, so I imagine these girls going to yoga and then maybe she goes and gets like an oat milk latte afterwards, and what would she wear to go do that?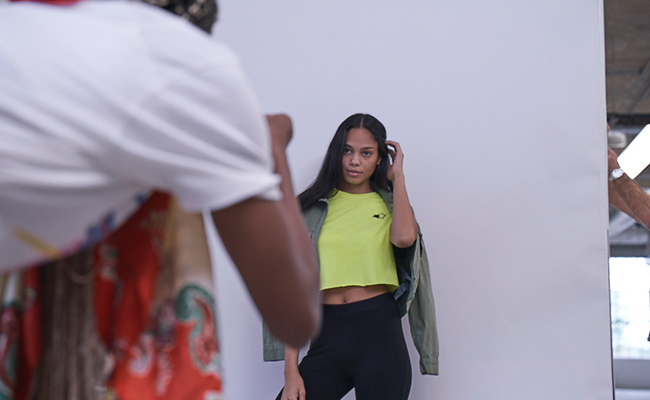 Q: Can you tell when something's about to be a trend?
Grace: I don't really operate in trends—I operate just by shapes and moods. Like, all my friends have their own distinct style. Even if it's not mainstay, they all have their own specific way they wear jackets and cutouts. So once I see them wearing it, I know it's going to be huge. 
I definitely read magazines and I stay up to date on that, but my mom always told me that style is always recycling itself. Trends are always going to recycle themselves. So the best place to look for trends is actually in the past.
Q: What are some influences that have impacted your style or personality?
Lil Baby: My grandparents would come and take me to different places. So I had a lot of different worlds deeper than the streets, but I'm deeper than school, and I'm deep with this. I just took everything in and ran with it.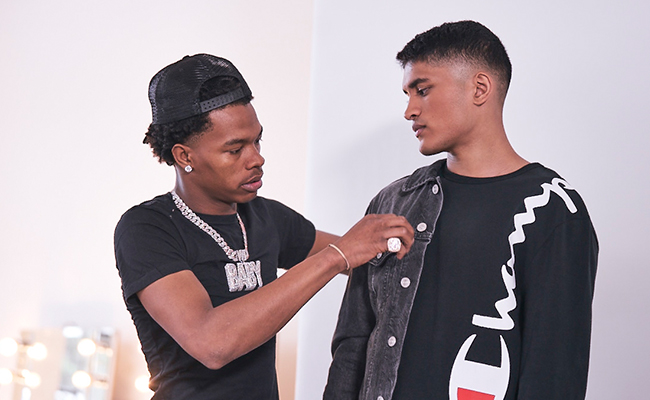 Grace: So, my first foray into style was actually through Alexander McQueen. He didn't do anything that was without passion, without love, without history of who he was, and that was kind of what dictated what I wanted to do in photography and styling.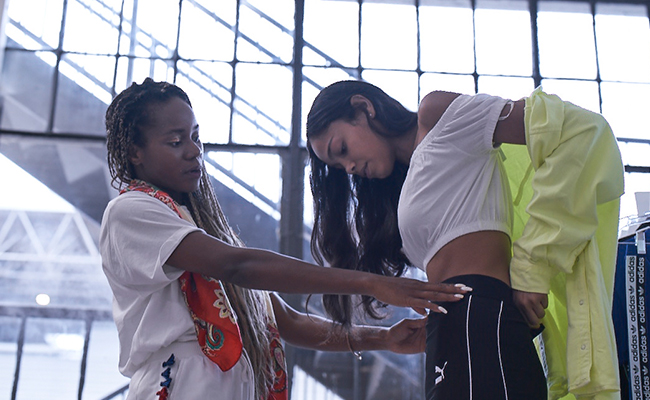 Q: Do people take your style?
Lil Baby: A lot. And I don't really consider it taking my style because I'm giving it away. I just inspired it. I don't even feel like it's stealing my style. How can I get mad at someone for doing what I do and I'm in this light? Unless you're trying to do it like me too much and act like it's yours. THEN I got a problem.
I really got kids who make me open my car door to see what I got on. I try not to take it in so I don't get big headed, like power struck. I try to stay just as level headed and regular as them. When I come around it don't matter if I'm in a million dollar car, I got on million dollar jewelry, $5,000 outfit, you know I sit where they are—I sit on the ground, we're chillin', I'm still regular to them. So I give them a sense of hope, because I had that hope growing up and that's how I became who I became. 
Q: What are some trends you're seeing now that will carry over to back-to-school and fall?
Lil Baby: Most trends is jewelry. That's like the most trendy. Everybody have—and it's always been like that. It's definitely in though. Everybody got a chain or a little watch or something right now. 
Grace: The 90's are super, super big right now. I think comfy pants, oversized, straight leg jeans are huge—and biker shorts are huge, which was so great to see so many in the Finish Line collection.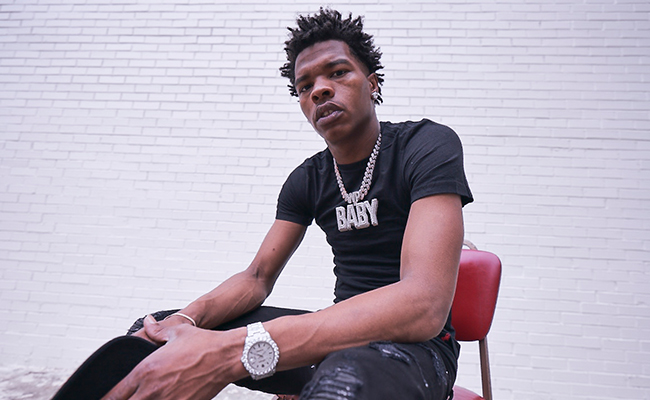 Q: Any women's tips for dressing for fall?
Grace: The sporty dresses look good on everyone. And definitely biker shorts are just the "It" thing right now for fall. I mean obviously if Beyonce is wearing it, you should just wear it. That's like a rule of thumb as far as style, and that is super flattering on everyone too, although just be conscious of when you wear it. 
With really big, oversized statement jackets, you don't actually wear them—you let them wear you. You just let them drape over you and let them be kind of like a period at the end of this really great sentence.
You can feel if you have a good outfit on. If your outfit cost $5,000 and if you're not comfortable in it, then you might as well spend $5. Honestly, it's not worth it. Clothes aren't meant to be the very complex, over the top, intricate, complicated relationship. We're meant to love our bodies, love our clothes, and wear pieces that highlight our bodies, and not make us feel shameful of how we look.